SUNLIFE Habaneras villas
9 Exclusive high standing villas in Spain
Torrevieja - Costa Blanca
Models
Model Eva
The EVA model consists of seven comfortable single-level villas with a solarium, three bedrooms, two bathrooms, living room, kitchen, terrace, patio and private pool. The plots range from 226 m² to 276 m² and each house has a constructed surface area of 181.69 m².
This model provides the comfort of living on a single level as well as being able to offer the benefits of a spacious solarium with large pergola, barbecue area and shower, from where you can enjoy and make the most of the Mediterranean climate.
Model Alexandra
The ALEXANDRA model consists of two large villas distributed across two floors with a solarium. There are three bedrooms, three bathrooms . The plot is 206 m², with a constructed surface area of 157.70 m² each.
On the ground floor you'll find the living room, kitchen, bathroom plus a large double bedroom, whilst the upper floor has two bedrooms, two bathrooms plus the solarium on which you can enjoy the sun and Torrevieja's microclimate all day long.
Qualities
Full quality memory
Foundation and structure. The foundations and centre beams are made from reinforced concrete footings. There is a pillar structure and reinforced concrete flooring, as established in the building regulations.
External walls and facade. The external walls are made with 11 cm double hollow ceramic bricks with a 2 cm air chamber plus thermal-acoustic insulation made of 10 cm-thick expanded polystyrene inside and a 7 cm double hollow brick internal partition wall, making a total of 30 cm thick.
The exterior cladding will be made of a single white surface dressing and natural teak sandstone.
Exterior carpentry and glazing. The exterior carpentry will be made from high-quality aluminium, finished in a dark-grey colour, with Climalit-type double glazing.
The electric shutters will also be finished in dark grey. The reinforced front door will be fitted with a security lock.
Part of the balcony in the solarium area of the EVA model will be made from safety glass. For the ALEXANDRA duplex villa, both balconies (first floor and solarium) will also be made from the same safety glass.
Roofs, terraces, balconies and solarium. They will be open and thermally insulated with extruded polyethylene, concrete slopes will be introduced for draining water, and they will be protected with a waterproofing layer, a geotextile sheet and finished with non-slip stoneware tiling.
Interior partition walls and flooring. The interior partition walls will be constructed with 10 cm hollow bricks. The interior walls and ceilings will be plastered with a smooth plastic paint finish.The flooring of the whole house will be finished in high-quality porcelain tiling with an imitation wood finish. The flooring of the terraces will be finished with non-slip porcelain tiles.
Interior carpentry. The interior doors will be made from high-quality DM or lacquered wood with a white matt finish.There will be high and low-level cabinets in the bedrooms that have been internally lined.
The kitchen has high and low-level cupboards and silestone or similar Cararra marble-imitation worktops.
Kitchen. The kitchen furniture consists of high and low cupboards and drawers, according to design, in white melanin, a matt finish, wood colour and without handles.
The worktop, work surfaces and kitchen bar are made from artificial stone silestone-type or similar imitation white Carrara marble. The stainless-steel extractor hood is included.
The built-in sink is in stainless-steel or colour depending on what the client chooses.
Bathrooms. The bathrooms are tiled with rectified porcelain tiles and there is underfloor heating in all the bathrooms.
Compact bathroom furniture that includes a sink, mixer tap and integrated mirror with LED backlighting will be fitted.
The resin shower trays are extra-flat and come with a protective glass screen specifically for bathrooms and built-in taps.
The bathrooms will have a removable false ceiling made from plaster or a similar material.
The toilet is wall-mounted with a concealed cistern, in white, and has a solid lid fabricated by a top brand such as Roca or similar.
Solarium. The tiles on the floor of the solarium are non-slip porcelain.
There is also a shower, barbecue area with water supply, electricity socket, sink and a power outlet for a refrigerator.
Plus, there is a fixed pergola, power outlet for lighting and optional awning.
Stairs. The stairs of the duplex villa (ALEXANDRA model) will be made of Silestone-type artificial stone or ivory-coloured marble.
In the single-level villas (EVA model), the stairs that access the solarium will consist of porcelain-tiled flooring.
Garden. The landscaped garden will be finished with non-slip porcelain tiles, areas of artificial grass and printed concrete in the driveway.
The pool will be 3 x 5 m, or larger, depending on the plot and the choice of the client. Each pool has entry steps into it and lighting inside and an outdoor shower.
Paint. The interior paint finishes will be smooth matt white or whichever colour the client prefers.
Plumbing. Thermoplastic piping installation made from standardised regulated material, integrated into the ceiling and sanitation system in PVC.
Electricity and Telecommunications. Low-voltage electrical installation according to current regulations in force.
Audio entry-phone system installation.
Unit heater with heat pump installation.
All the blinds are electric.
Power outlets located in the solarium pergola, barbecue area and terraces.
Zenith lighting systems or similar.
Pre-installed alarm system.
Pre-installation of television in the living room and every bedroom.
Telephone sockets in the living room and master bedroom.
Air-conditioning. Pre-installed air-conditioning ductwork (cold-heat) throughout the house.
Exterior metalwork. Metal gate to enter the plot and for the carport, electric gate motor pre-installation.
Community pools and tennis court. The urbanization has green areas, a tennis court and two communal pools, one for adults and the other one for children, as well as toilets and outdoor showers.
Location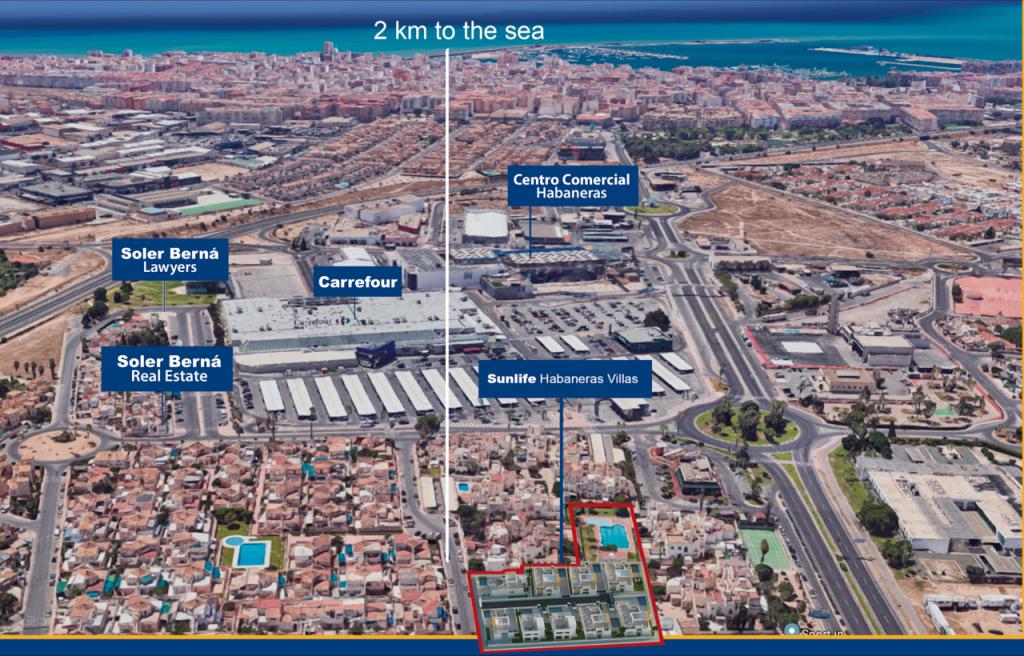 Contact
If you want to know more about Solber Habaneras Villas fill in the following form and we will get in touch with you as soon as possible.